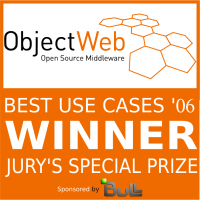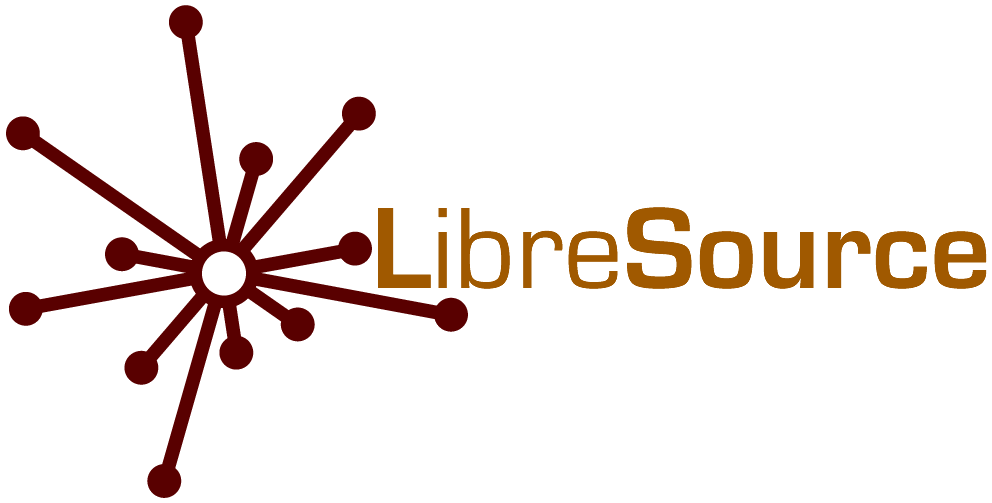 LibreSource is a versatile collaborative platform. Open Source, modular and highly customizable, LibreSource is adapted to the
collaborative software development (forge), groupware, community leading
, e-archiving and Web publishing.On a single server, LibreSource can host
several projects, several groups of users
, and grant fine grain access to the resources. Based on Java/J2EE, LibreSource is a modular web server that users can customize online by combining
resources and rights
: wiki pages, forum, trackers, Synchronizers, Subversion repositories, files, download areas, drop boxes, forms, etc. LibreSource uses most of the advanced services provided by the OW2 application server called JOnAS.
The other forge
Coordination is a crucial point of the software development. If the team developing a software is in the same place or between several distant entities (co-operations, outsourcing, offshore), it needs communication and effective exchanges. LibreSource is a collaborative development environment bringing a technical solution to the management of the software life cycle. Free software, LibreSource is modular and extensible.
Share

To centralize and version the source code of an application, to allow the whole team to share it and to contribute to it is the first need which LibreSource answers. LibreSource integrates and give you the choice between two distinct solutions from configuration management: the LibreSource Synchronizer and Subversion.For a fast starting the LibreSource Synchronizer is a tool powerful and very easy to use. It requires neither installation on the user PC nor network setting. The LibreSource Synchronizer gives to the team which uses it a global vision. It finally allows to set up true software factories (Dataflow) by creating chains of test, validation, packaging and advanced automatons.Subversion is perfectly integrated into LibreSource. You can create repositories and directly manage their access rights from LibreSource, in coherence with the platform. All the tools supporting Subversion are directly usable.In complement, LibreSource proposes download areas where the users can upload files at the disposal of the team or visitors of the site, as well as drop boxes, allowing to collect documents without giving of them the access to those which deposit them.An internal search engine allows you to find all the documents hosted on the platform, that the data are with format PDF, Open Office, Word, …
Communicate

Teamwork is before all communicating well, efficiently, precisely when it is needed and more informal sometimes. LibreSource offers all these means of communication to you.First of all, LibreSource integrates a Jabber instant messaging in order to know which is online and to directly exchange messages. You have forums to dialogue on the functional or technical aspects of your project. LibreSource offers Wiki pages to write in a collaborative way documentations and specifications. You finally have bug-tracker to formalize the needs as well as the problems, and to dispatch work between people and versions of the software.You can propose online forms in order to collect information. The results can selectively be published as a table or as a fulfilled form, and can be exported to a spreadsheet. This functionality can be implemented to create questionnaires, registration forms, or any other application which requires a formal communication.You can be informed of any relevant event which takes place on the platform thanks to a notification sent on your email or your instant messaging. You are thus able to follow the evolution of your projects without constantly monitoring the platform and you are able to react very quickly to a request.
Customize

LibreSource is a modular portal and can take a form adapted to your organization. A project in LibreSource is not monolithic; you can compose it of all the available types of resources, and thus create very specific projects, sub-projects, ...Most of the Web pages of a LibreSource site can be edited online with a Wiki synthax and can thus be personalized by the project members. You can easily format your texts, create links to other pages, tables, include images or resources from other pages.You can directly create your own forms, adapted to your needs and your organization, and include them in your pages.LibreSource is internationalized, French and English.You can federate several LibreSource, sharing users, user groups, connections and search engine. Moreover, you can move a project from a LibreSource server to another.
Designed to be safe

LibreSource proposes a sharp management of the access rights. With a single platform, you can, for instance, create a public Web site modified per few users, a modifiable collaboratif space by a whole working group and privative spaces accessible only to specific users. You can grant to each user or user group rights on the platform. These access rights correspond to your needs and can adjust with the evolution of your project.
---

Key Technologies
Operating system: Windows, Unix, Linux, Mac OS X
Application server: JOnAS Java by default, any server of applications in option
Database server: PostgreSQL by default, any database server in option
Instant messaging: Tigase
Options: Subversion and integration with other tools
Clients compatibility: Internet Explorer, Mozilla Firefox, Konqueror, Safari, ...
Tech Specs
Features

Modular and extensible collaborative platform based on resources
Configuration management
Online wiki edition
Accurate access rights management
Instant messaging
Events management
Full text search engine
Advanced web rendering
Project templates
Learn more...
Resources

Project
Wiki pages
Forums
Bug trackers
Download areas
Drop boxes
Timelines
Forms
Surveys
Synchronizer
SVN Repository
People

LibreSource was born as a platform project, initiated in 2001, supported by the National Network of Research and Innovation in Software Technologies
RNTL
. LibreSource has been developed in partnership with the ECOO team of the
INRIA Lorraine
,
Denis Diderot- Paris 7 University
,
Henri Poincaré-Nancy 1 University
and
Artenum
, the industrial partner.