If you want access and modify datas on the platform, you have to register a new user. Connected as
Guest
, click on the
Login
link at the bottom-right corner of the page.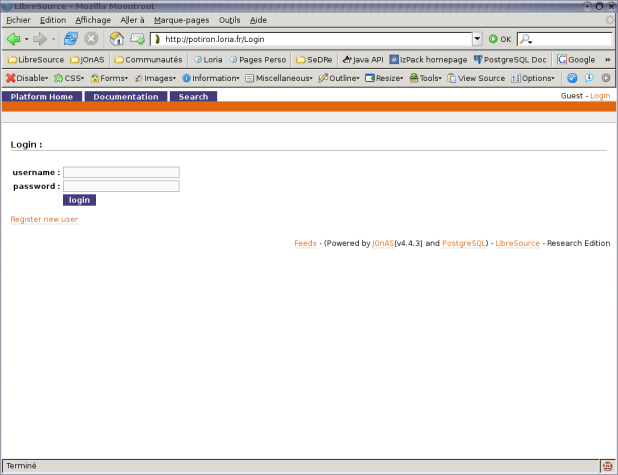 Figure 1
- The Login pageIf you have an account on the site, you can enter your login and your password. If these data are correct, you will be authentified and your name will be displayed neer the Logout link, on the top-right corner of the page.If you don't have user account on the site, you can create a new one cliking on the "
Register new user
" link. This link show you a registration form :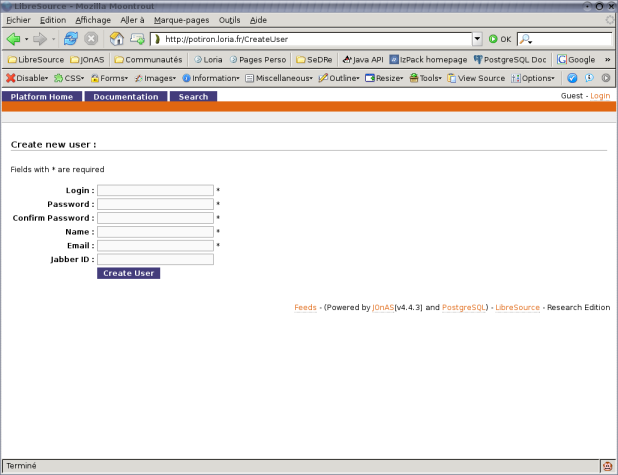 Figure 2
- The Registration formThen, you have to enter your personnal informations :
choose a login that does not already exist on the site
choose a password, and confirm it
enter your complete name
give your email address
If you have a Jabber account, you can fill the jabber ID field (use in events notification)
If all informations are correct, your account will be created and you will be able to log in on the platform.If you are connected, you can constantly click on the"
Logout
" link located near your
name
in the top-right corner of the page. Clicking on this link will close your LibreSource session and redirect you to the home page of the platform.