The user interface of the web client is composed of
6 parts
:
the main menu
a login area
a location bar
a contextual menu
the current resource view
a foot message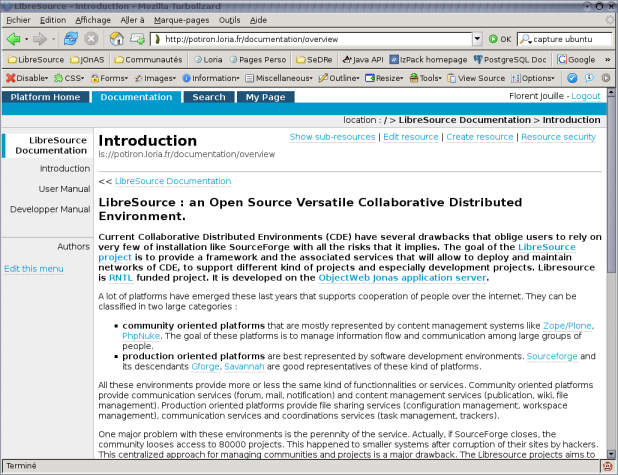 The main menu
The main menu is located on the left top corner of the page. It contains a list of links, depending of the platform. By default, tree links are availables:
Platform Home : quick link to go back to the platform home page.
Search : access to search engine of the platform.
My Page : access to connected user profile (if a user is connected).
The login area
Located on the top right corner of the page, the login area gives you some information about the current user session. Thus, if you are authentified on the site, your
name
and a
Logout
link will be displayed. Otherwise, the name
Guest
and a
Login
link will be available.
The location bar
In this area, the complete path of the current resource will be displayed. This is very useful to know the part of the LibreSource tree you browse.
The contextual menu
On the left of the web page, a menu is shown. It contains some wiki syntax (links, title, image...). This menu is a property of the current node (and if this property does not exist, it is inherited from the parent node). Thus, you can define a specific menu for each resource.
The current resource view
The center of the page is composed of the resource view :
resource title : the title of the resource
resource path : the uri path of the resource (for example : ls://potiron.loria.fr/documentation/user-manual/webapp/interface)
resource menu : four links are availables on each node :
Show sub-resources : call the children action on this node
Edit resource : allow user to update the value of the resource
Create resource : allow user to create a new resource under this current one
Resource security : show the security page for this node
and the resource view, according to the action called on this resource.
Note
: if a node is empty, the default view is the children list.
The foot message
This message contains informations about the current installation.