Unlike a file system, LibreSource manage events. Creating a ressource, moving a ressource, interacting with a ressource generates persistent event.
Why this events mechanism ?
This system allows a better awareness of the users who work together in the platform. For example, if a user update the content of a file, people could be informed of this action with an email generated by the event. These awareness is very important to work in a distributed environment.LibreSource event contains a lot of interesting information :
the action type (create, update, delete, ...) according to the resource type
the resource which has been (URI of the resource, type of the resource)
the user who has executed the action
the date of the action
a list of arguments (allows additional information in the event)
Some event types are generic:
resource creation
resource edition
resource deletion
Some event types are resource type dependant. They are described with each
resource
.
How to use LibreSource events ?
Email or Instant Messaging Notification
Users can suscribe to events generated by the a subtree of ressources.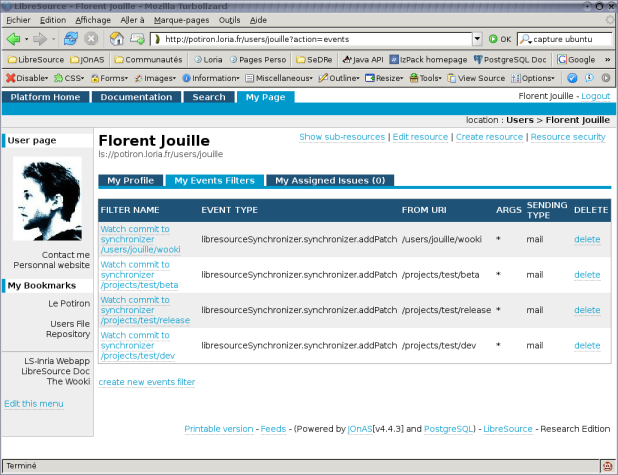 Figure 1
- User events filtersHe will then be notified by email and/or jabber instant messaging when an event is produced by a resource of this subtree.
Timeline Resource
There is a special resource in LibreSource which is a "logger" of the events. This resource listen events from one subtree and display the wanted event on the web page.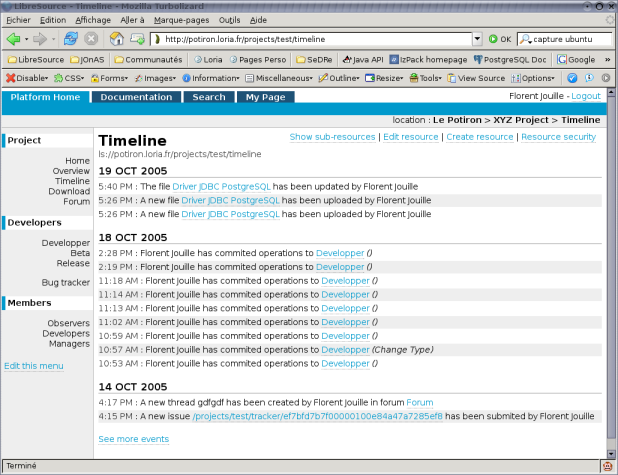 Figure 2
- A timelineSee the
timeline page
for informations about its use.
Complete events list
- kernel.create
- kernel.delete
- kernel.deleteURI
- kernel.bind
- kernel.unbind
- kernel.moveFrom
- kernel.moveTo
- kernel.chown
- kernel.createAcl
- kernel.deleteAcl
- kernel.resetAcls
- kernel.setProperty- membership.user.edit
- membership.user.delete
- membership.group.create
- membership.group.edit
- membership.group.delete
- membership.group.addMember
- membership.group.removeMember- libresourceCore.symbolicLink.create
- libresourceCore.symbolicLink.edit
- libresourceCore.template.create
- libresourceCore.template.edit
- libresourceCore.timeline.create
- libresourceCore.timeline.edit
- libresourceCore.project.create
- libresourceCore.project.edit
- libresourceCore.project.editSummary- libresourceBugTracker.bugTracker.create
- libresourceBugTracker.bugTracker.edit
- libresourceBugTracker.BugTracker.delete
- libresourceBugTracker.issue.create
- libresourceBugTracker.issue.edit
- libresourceBugTracker.issue.delete
- libresourceBugTracker.issue.assign
- libresourceBugTracker.issue.resolve- libresourceFiles.file.create
- libresourceFiles.file.edit
- libresourceFiles.file.delete
- libresourceFiles.file.download
- libresourceFiles.repository.create
- libresourceFiles.repository.edit
- libresourceFiles.repository.delete- libresourceForum.message.create
- libresourceForum.message.edit
- libresourceForum.message.delete
- libresourceForum.thread.create
- libresourceForum.thread.edit
- libresourceForum.thread.delete
- libresourceForum.forum.create
- libresourceForum.forum.edit
- libresourceForum.forum.delete- libresourceMailing.mailingList.create
- libresourceMailing.mailingList.edit
- libresourceMailing.mailingList.delete
- libresourceMailing.mailingList.subscribe
- libresourceMailing.mailingList.unsubscribe
- libresourceMailing.mailingList.sendMessage- libresourceSynchronizer.synchronizer.create
- libresourceSynchronizer.synchronizer.edit
- libresourceSynchronizer.synchronizer.delete
- libresourceSynchronizer.workspace.connection.create
- libresourceSynchronizer.workspace.connection.edit
- libresourceSynchronizer.workspace.connection.updateLastTicket
- libresourceSynchronizer.workspace.connection.delete
- libresourceSynchronizer.synchronizer.getPatch
- libresourceSynchronizer.synchronizer.addPatch
- libresourceSynchronizer.synchronizer.editPatch
- libresourceSynchronizer.synchronizer.removePatch- libresourceSurvey.survey.create
- libresourceSurvey.survey.edit
- libresourceSurvey.survey.delete
- libresourceSurvey.survey.addOption
- libresourceSurvey.survey.deleteOption
- libresourceSurvey.survey.vote
- libresourceSurvey.survey.close
- libresourceSurvey.survey.open- libresourceWiki.page.create
- libresourceWiki.page.editContent
- libresourceWiki.page.delete